Timber Frame Wood Barn Plans & Kits
Welcome to Southland's collection of American Classic Barn designs and kits! Southland's Barn designs carry on the company's tradition of design excellence, now combined with inspiration from a series of historic American barn plans. These designs highlight the craftsmanship of timber post and beam construction, resulting in a barn that not only evokes the beauty of classic wood barns, but is also functionally unsurpassed.
Barn Designs from Southland Log Homes are ideal for a wide range of uses, from vehicle and equipment storage, to backyard workshops or studios, to recreational space that is ideal for parties, gatherings, and other events with family and friends.
In fact, barns of this type are often the basis for an "event" business that provides the barn as a venue for weddings, anniversary celebrations, and reunions, among other occasions.
In any case, Southland's barns are a great complement to either a Southland log home, or any other classic American home!

Images showing the Interior Structural Timbers of the wood barn kits Post & Beam construction.
Each Southland barn kit is pre-manufactured to ensure the highest quality and the greatest ease of construction. Pre-measured and pre-cut, Southland's professionally inspected and graded timbers are quickly and cost-effectively assembled into a stunning post and beam barn. Everything needed to create a complete barn is included in the kit, except for the concrete for the footers. (See a general material list below.)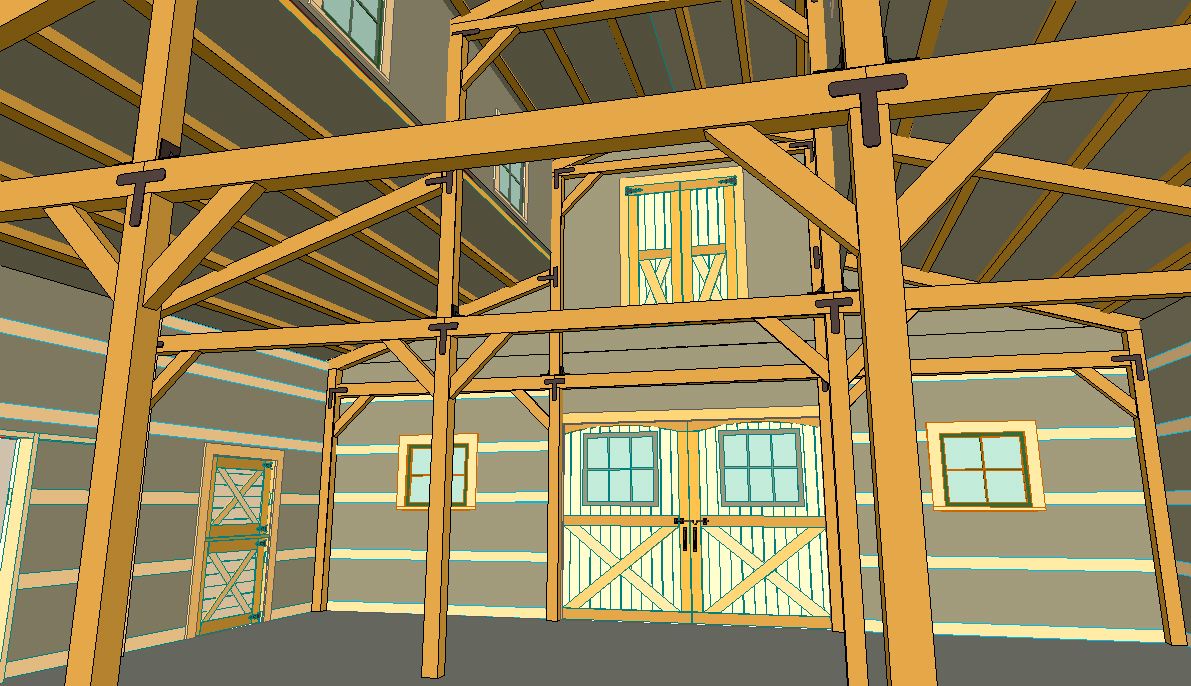 Exterior Siding (Board & Batten or Tongue & Groove)

Engineered Barn Hardware and Plates

Timber Roof System (Architectural Shingles or Metal Roof)

Second Floor Decking (if applicable to your design)