Testimonials & Customer Reviews 
"We would like you to know that we built a log home a little over a year ago. We just had a disastrous hurricane, Katrina. We took a direct hit. Our house stood strong against the rain, wind and tremendous storm surge. We are about two blocks off the beach. We took in water, but the logs are as beautiful as they were in the beginning. We have had dozens of people to come look at the house and marvel that is is still standing. From the outside, it looks as though nothing ever happened. Most of the homes around us have to be torn down or are already down from the surge. Several people have come by and stated that they were going to call and order a package from you. We just wanted you to know how proud we are of this house, considering we built it ourselves."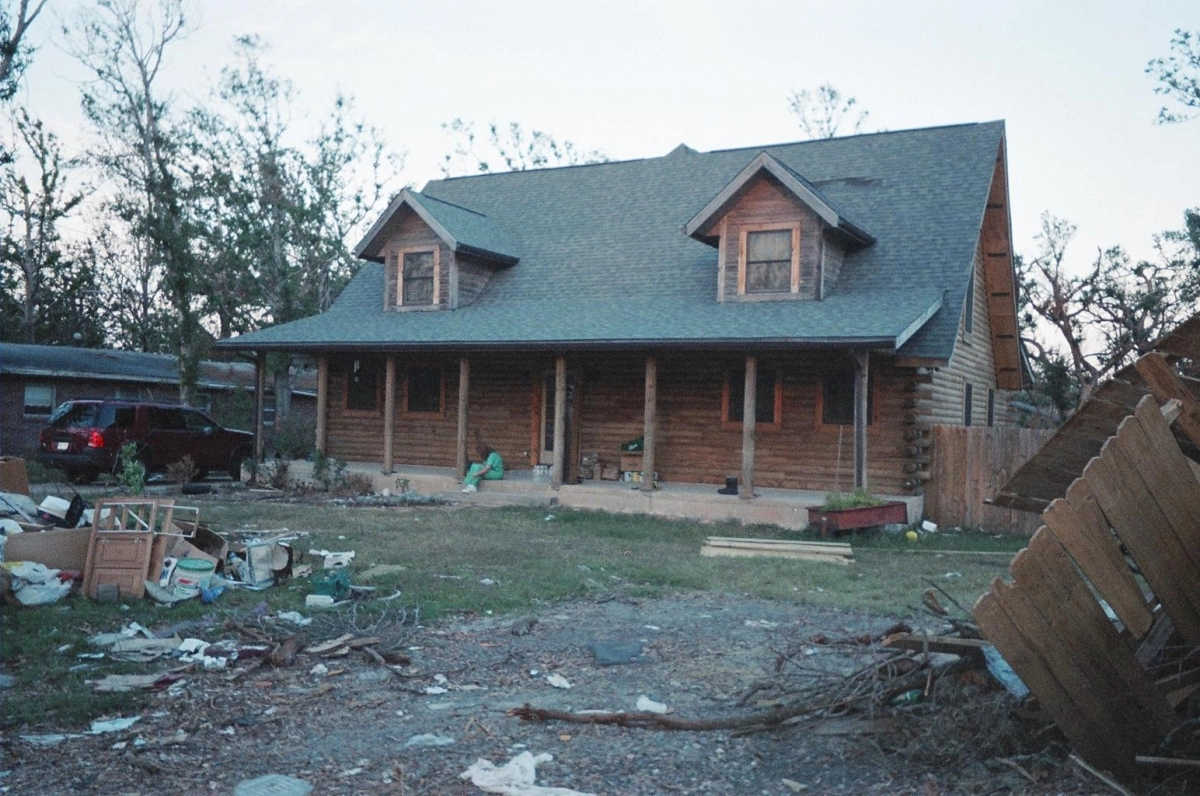 "We built our Southland Log Home in the spring/summer of 2002, with help from family and friends. We acted as our own contractors and designed/constructed this 1700 sq. ft. home with our own hands. We were excited to be able to build our dream home and use our own custom floor plan.
The back deck faces a pond and a field that is always populated by deer. It was so fun to be able to "hand pick" every last detail of our home. I wouldn't change a thing. A friend helped me chisel each and every stone in our fireplace to be sure each stone was a perfect fit. It turned out beautiful. We had some log siding left over, so we decided to give our dogs their own Southland Log Home! They love it.
We purchased some additional log siding and installed it on our interior walls so it would match our logs. We wanted our Master Bedroom to be all wood. We also put tongue-n-groove pine in the ceiling. Our bedroom is so warm and comfortable. Thank you for giving us the opportunity to live out the log home experience. We are looking forward to raising our children here."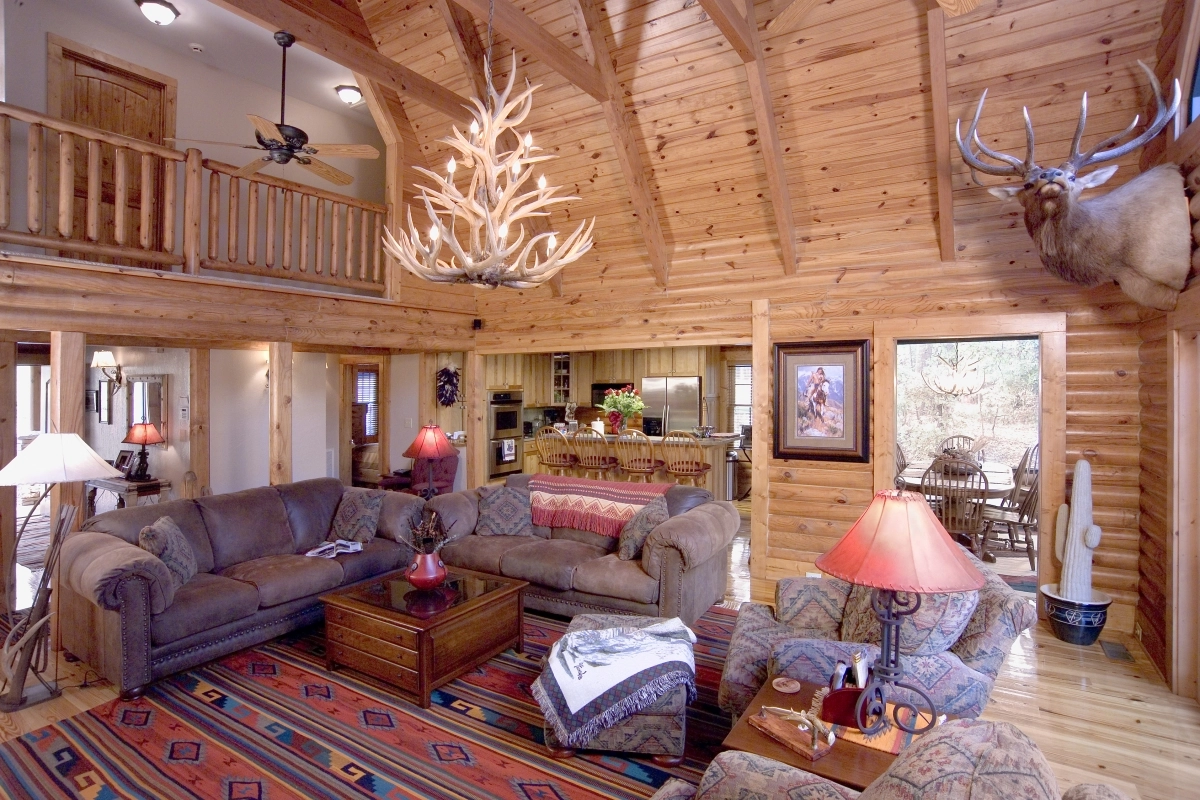 ~ Doug, Dawn & Ross Weeks
"Every time we round the corner of our long driveway and see our lovely home perched on the top of the hill, we get a sense of deep pride in what we have accomplished. From the concept design to the final detail, we worked together to build our home to be a reflection of our personalities and lifestyle.
The building experience was a challenge, but worth every minute. We chose to build our home ourselves (with a little help from friends and family) while maintaining full-time jobs. Many late nights were spent burning the midnight oil wrapping up the daily goals we set for ourselves. Cold days ended with a bonfire to unwind and reflect on the day's accomplishments. The celebration of meeting each goal helped to keep us focused and avoid being overwhelmed.
Our home is set on forty acres of rolling hills, pastures, and woods. It is a quiet, peaceful setting that is enjoyed by all who visit us. Both the exterior and interior were designed and decorated to promote a cozy, comfortable atmosphere. Whether inside or out, it is impossible to do anything but relax, take in the nature, and leave all the stress of work behind.
Looking back on the building experience and then to the final product, it is hard to remember life without our wonderful home and peaceful existence. Our efforts are now a source of pride and feeling of accomplishment. In every nook and cranny, we see our hard work, love and dedication to quality workmanship – we see ourselves."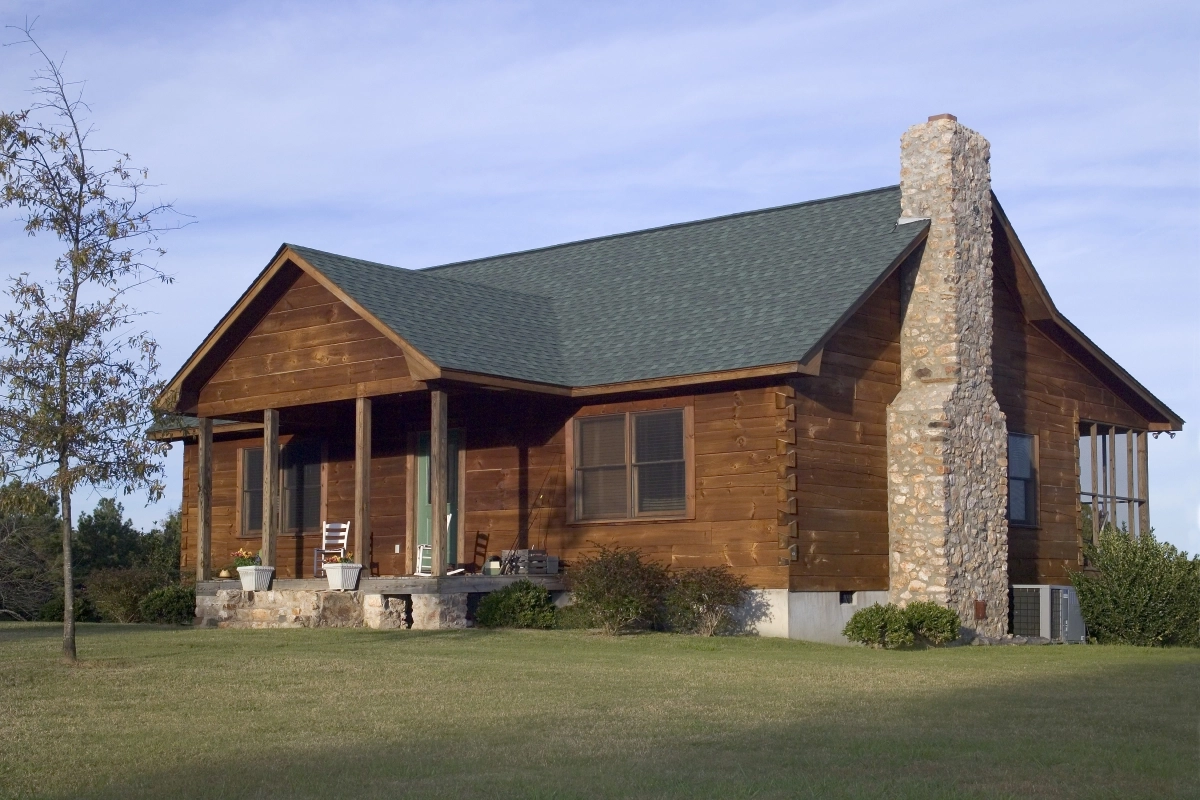 "In the late 70s, not long after enlisting with the US Air Force, we purchased some property in Potter County, Pennsylvania. Since that time and through out our travels, we had always planned on coming back to Potter County and building a log home on that site, and that it most likely wouldn't happen until our retirement from the US Air Force some 20 or so years later.
In 1999, we were ready to do just that. We looked at different options for building a log home and Southland Log Homes was definitely one of our options. We're not really sure why we initially decided against Southland, other than ordering a kit from another state and wondering how we would bring it all together seemed to be quite overwhelming.
So, in the fall of 1999, we had decided to stay local and thus entered into agreement to have a log home erected using local logs from a local contractor. Then just a few weeks before construction was to begin, we received a call that our logs were no longer available and the contractor was backing out on us. We then contacted a local dealer of Southland and started working with Southland Log Homes directly for the design and ordering of our home. It was then that everything started to come together.
All we can say is, if it weren't for Southland's great customer sales and service folks along with our hard and dedicated work, we wouldn't have met our tight schedule that was, of course, being keyed on beating the coming typical and sometimes harsh Pennsylvania winter. Lucky for us and thanks to you, we were able to move in before the worst part of winter hit.
The look and quality of our home certainly sets it apart from what we nearly had. We couldn't be more pleased with our log home. There is no end to the compliments we receive for both the inside and outside decor of our home. Thank you."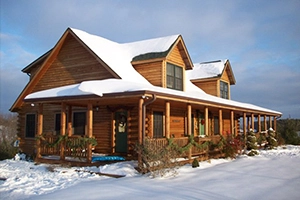 "I would like for you to know that my husband and I have been married for 21 years and we lived in busy areas for 19 of those years. It has always been his dream to move to the country where it is peaceful and life gets a little slower.
When you built your model right off of I-95 in Fredericksburg, David said we would have to go and look. Since our first tour, we were hooked and the wheels started turning. We knew we wanted a log home, so we began to look around at the competition to see what would suit us best. Not only did Southland offer the nicer logs and floor plans, you had the best price. Five months later we were moving into our new Southland home.
One evening we were sitting on the front porch and David said, "I just love this place. It is so peaceful and beautiful here." We have finally found our home. Thank you. We are both business owners with hectic lives, and I can honestly say that we have a place to come to that is a haven."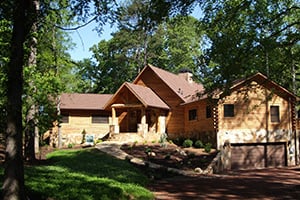 ~ David and Terri Pickett
"You can't call this a log cabin!" is the comment we hear most often when friends visit our 5,000 sq. ft. Southland log home on Lake Murray near Lexington, S.C. But we know that they too will soon be calling it a "log cabin." It isn't the size of the house, but rather the relaxed coziness that gives it a cabin feel.
Four years ago as we began planning for retirement living, we visited S.C. searching out property on the lake. Two of our three children lived in Lexington and had convinced us that lake living would be ideal for us. We found a partially built Southland log home for sale. After consulting with Southland Log Homes and a contractor for advice concerning changes and finishing the house, we soon were log cabin home owners.
We met with a Southland designer and drew up new plans. Not only would the house be 1,500 sq.ft. larger, but since the interior was still open we could redesign the floor plan. We used distressed pine with a poly finish on all the floors, and the interior walls are a finished tongue and groove. The kitchen counters and top of the kitchen island are also poly coated pine. All the honey toned wood gives the house a real cabin feel. There are separate guest areas with a staircase on one side of the house and another staircase leading up to the master side. With four grandsons who love to be on the lake, the guest side is well-used. Since we have lived in so many different places, we often have out-of-town visitors. The floor plan is ideal for us."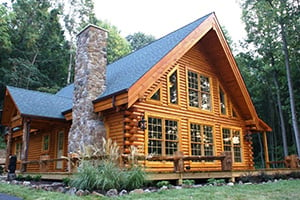 "Building our Southland log home was very exciting and enjoyable. It was exciting because we got the opportunity to witness the foundation being poured, the framework being done, and seeing the complete project. We were there every step of the way. Building our log homes was an experience we'll never forget. We laughed a lot, we cried a little, and we argued some, but out of all of that, it was one of the most enjoyable events we have ever experienced.
What was unique about our house, was that it is the only log home built in a visible spot in our area. Our neighbors were very interested in the cost, the process, and why we chose to build a log home. So, we had many opportunities to share the reasons we chose a log home as opposed to a brick home. Some of the reasons were because we were able to customize our home, the cost was reasonable for such a sturdy home, it was energy efficient, and it was unique and very beautiful.
Lastly, living in our log home gave us a feeling of nostalgia. The big, beautiful porch reminded us of grandma's house. In the past, the porch was where the family would gather and share laughter and joy. It was a place where the family could bond, and that is what we currently use ours for. The atmosphere in our home is very inviting and relaxing. We have enjoyed every minute, and we are proud to be Southland log home owners."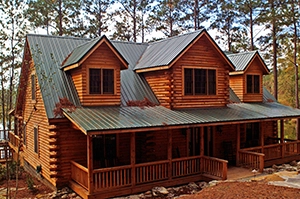 ~ Ricky and Glenda Halter