Southland Log Homes: Small Log Cabin Kits
We have the perfect small log cabin kits to build in the back woods, a small fishing or hunting lodge sitting next to the lake, or a small log cabin get-away, Southland Log Homes can help you design the perfect log cabin. All of our log cabin plans and small log cabins can be custom designed to your specifications. Since log cabin homes come in many shapes and sizes, they can be designed to fit a wide variety of sites and budgets.
Call 803-407-4633 or 800-845-3555 (select Option 2 – Customer Service) to order.
12×20 Log Cabin
$14,262 with floor system and $12,289 on slab
(Shipping Not Included)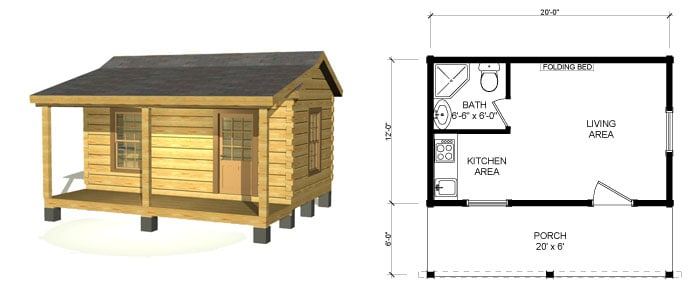 About this log cabin kit:
4×12 or 6×6-D logs only (8'-5 ¼" exterior wall height)

2×4 Interior Stud Framing

3068 2-Panel 9 Lite Fiberglass Door

2×8 Rafters for Main Structure

No interior ceiling material included

2×10 Floor System w/ ¾" OSB subfloor

Includes Shingles for Roof
16×24 Log Cabin
$18,531 with floor system and $16,353 on slab
(Shipping Not Included)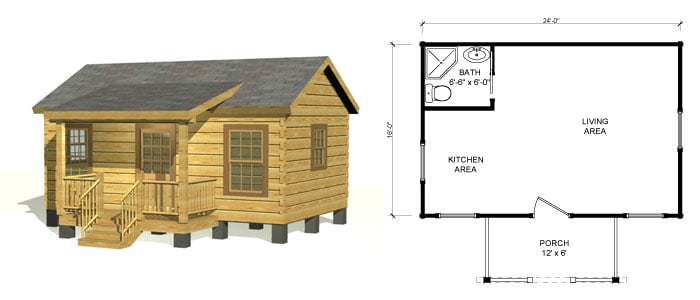 About this log cabin kit:
4×12 or 6×6-D logs only (8'-5 ¼" exterior wall height)

2×4 Interior Stud Framing

3068 2-Panel 9 Lite Fiberglass Door

2×8 Rafters for Main Structure

No interior ceiling material included

2×10 Floor System w/ ¾" OSB subfloor

Includes Shingles for Roof