Log Cabin Kits: What Goes into the Materials
You are here
When you decide to purchase your log home kit you will be able to select your design from a wide range of floor plans. These plans are extremely versatile and can range from the attractive summer cabin to the elegant and expansive family home. If our large library of log home plans does not contain the exact house that you are longing for then we can customize a design for you at no extra charge.
Log homes are environmentally friendly housing choices that provide you with the benefit of an energy efficient design. Southland's log homes contain a high percentage of renewable resources and the density of the logs can also block out noise and keep your home quieter than a conventional house. They are very durable structures that can have a long lifetime when certain types of wood and building methods are utilized. Southland will guide you through the whole process of putting together your log cabin or house, which can include locating land, acquiring financing, choosing and working with a builder, in addition to supplying well-constructed materials and project management.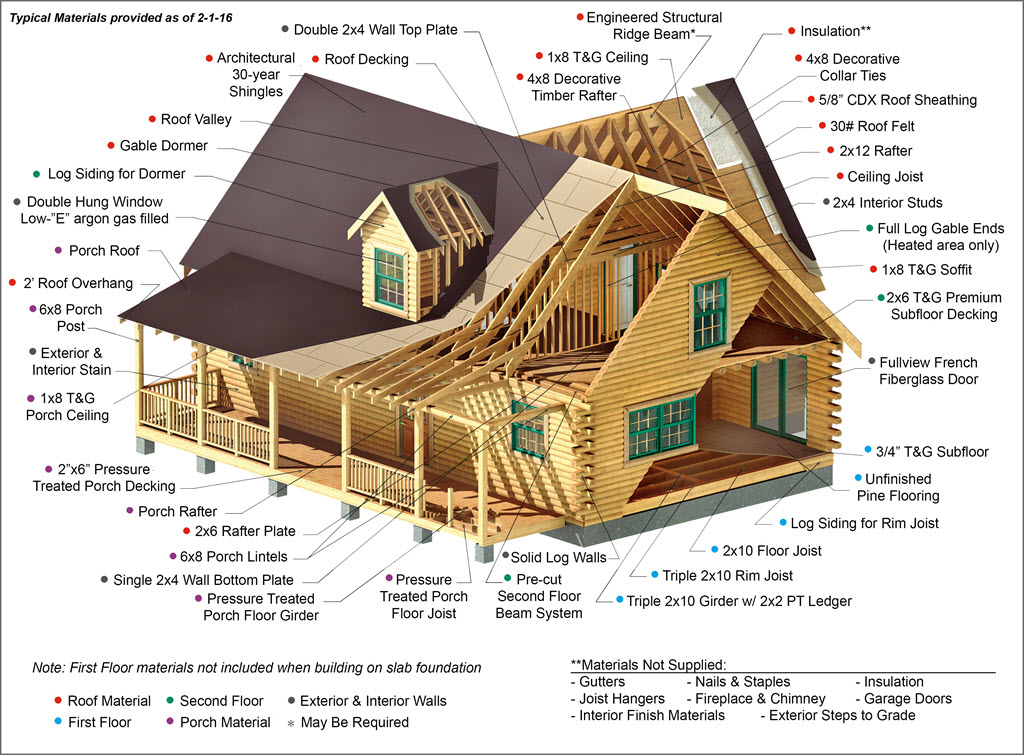 The Southland log home kits come equipped with all the materials you will need to get your home to the "dry-in" stage. This includes:
All interior and exterior log walls

The entire roof system along with shingles
Exterior windows and doors
Interior framed walls
Floor systems in addition to first floor pine floorings
Porches and decks
As well as the necessary fasteners, caulk and stain.
Additional package details and upgrade information can be obtained through Southland's Log Home consultants.
We can craft the perfect home for anyone, with many size and shape options that are made to fit a large variety of locations and budgets. Our customized log cabin and log home kits contain only the finest materials. The quality and finish of our precision milled log walls set the standard for the industry and our roof systems are engineered to exceed national standards for building efficiency and design. Quality and value are the foundation that Southland Log Homes is built upon, which is why we are America's Favorite Log Home™.
To view our collection of floor plans of log cabin kits, select the blue link below:
A Southland log home kit starts on your foundation with a sound floor framing system which includes only the finest materials for your log cabin kit. Our precision milled log walls set the industry standard for quality and finish. The engineered roof system meets or exceeds national building standards for efficiency and design. Quality and value are only some of the reasons why log homes from Southland log homes is America's Favorite Log Home™.
Reasons Why Southland Log Homes is Better than the Rest
Pre-cut Logs For All Log Cabin Kits Systems
Every Southland log cabin kit is precision cut in our mill, not on your job site. Each log is numbered and notched, which can save you weeks of valuable construction time
Log Home Kits Include Kiln-dried Logs
Every log in a Southland log home kit package is placed in a high temperature dry kiln, which removes water and moisture from the logs. This greatly reduces the opportunity for shrinking or settling.
Our Log Cabin Kits Have Thicker Walls
Southland logs are up to 12" thick, which provides more wood than most log cabin kits. This not only looks better, but also saves money on your energy bills.
Pre-cut Log Beam Kit System
Log beams spaced 24" on center give your log cabin kit superior structural strength and beautifully highlight the attractive tongue and groove ceiling. We also have many choices of log chinking and log cabin kits log profile options for your log home kit so that you can achieve that perfect look.
Log Cabin Packages Come With Full Log Gables
Wherever you have heated space we use full logs to maintain the energy efficiency of your log wall system. We use log siding at the attic level or by special request for all log cabin packages
Log Cabin Kits Porches
Your Southland log home comes with full log porch posts and lintel supports for your roof system
Log Home Kits Porch and Deck Rail Options
Custom-designed pressure-treated pickets, topped with round top rails, create a massive handrail look for our log home kits and packages
The Log Cabin Kits Sub-floor System
Floor joists spaced 16" on center with premium sub-floor materials are standard. Upgrades to floor trusses or engineered joists are also available your kit.
Log Cabin Kits Flooring
Southland log homes come with beautiful tongue and groove knotty pine flooring for the first floor of your home.
Log Cabin Kits Roof Systems
Conventionally framed roof systems include rafters spaced 16" on center. Upgrades to engineered trusses or heavy timber are available for your cabin kit.
Borate Treated Logs and Siding In All Log Cabin Kits
All Southland logs and siding are treated with a natural borate solution, which adds protection against insects and decay.
Top Graded Kit Logs
We use only the finest timbers for all log cabin kits. Each log is individually graded under the expert direction of Timber Product Inspection, Inc. to assure that only the highest quality logs go into every home kit.
Easy Electrical Wiring Throughout Our Log Cabin Kits
Every Southland log cabin kit comes with base logs for each floor that are already grooved for electrical wiring. This saves much time and labor on your job site.
Engineered Kit Fasteners
Engineered steel fasteners require no pre-drilling or counter sinking. The patented thread pattern gives each fastener more pulling power than other fasteners, and because there is no need to pre-drill, this system can save up to 25% of log stacking time.
Log Cabin Kits Exterior And Interior Wood Finish
Every Southland log cabin home kit includes top quality exterior and interior wood finish to protect your home and keep it beautiful for years to come. Our specially formulated Southland caulk matches the finish of the logs.
Cabin Kits Log Siding
Log siding to cover the girder sill plates and the roof dormers is included in the cabin package. This maintains the log look without having to make special foundation or roof adjustments.
Log Cabin Kit Doors
Southland exterior doors come pre-hung, with low-E argon filled glass panes standard for every log cabin kit.
Log Cabin Kits Window Package Options
Southland wood windows come standard with premium stain grade trim, removable grills, and screens factory installed. Energy efficient, low-E argon filled glass panes provide excellent insulation.
Foundations For Log Cabin Kits
A Southland log home cabin kit can be designed for a variety of foundation types, including crawlspace, slab, basement or pilings.
To view our collection of log cabin kits plans, select the blue link below: