"There are elements of intrinsic beauty in the simplification of a house built on the log cabin idea. First, there is the bare beauty of the logs themselves with their long lines and firm curves. Then there is the open charm felt of the structural features which are not hidden under plaster and ornament, but are clearly revealed, a charm felt in Japanese architecture … The quiet rhythmic monotone of the wall of logs fills one with the rustic peace of a secluded nook in the woods." The Craftsman, 1911.
Through a partnership created with The Stickley Museum at Craftsman Farms, Southland Log Homes created several Arts and Crafts designs to honor 20th Century Designer Gustav Stickley. These plans offer a quiet sophistication, balance, and the beauty that defines log home living.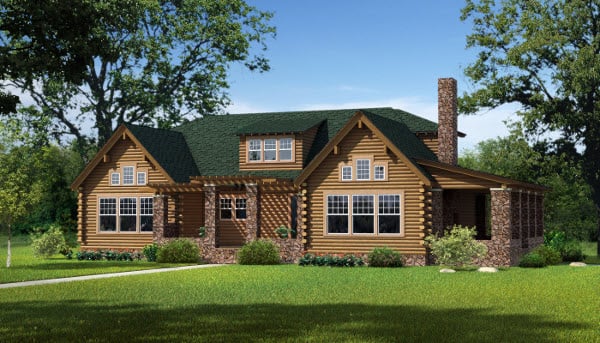 There's something very peaceful about the exterior of The Morris. The combination of the natural stone and the lines of the log exterior creates a harmony and balance echoed throughout the home's interior.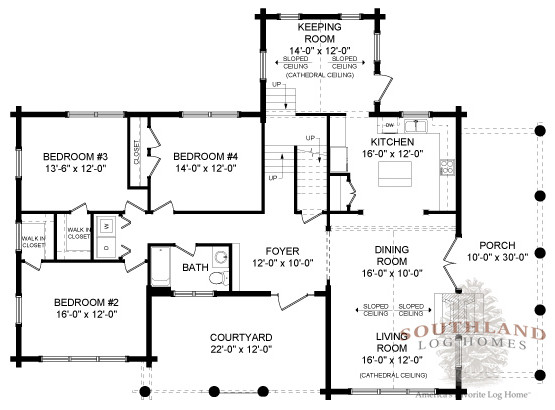 The Morris has 2,422 square-feet of living space with 4 bedrooms and 2 bathrooms. This log home has ample room for entertaining, with the Kitchen, Dining, and Living Rooms all open to one another. Large French doors open onto the side porch … open the doors and let in the crisp fall breeze or step outside and enjoy a bit of fresh air. Back inside, a large center island accompanied by plenty of counter space provide lots of room for perparing meals in the kitchen. Your resident chef's dream-come-true.
Just off of the kitchen, you'll find the keeping room. What is a Keeping Room, you ask? Dating back to Colonial times, keeping rooms could be heated by the homes Kitchen stove providing the family a place to sleep when it was too cold in the rest of the home. We'd love to hear how you would use your Keeping Room!
On the opposite side of the first floor are three spacious bedrooms, two of them having generous walk-in closets.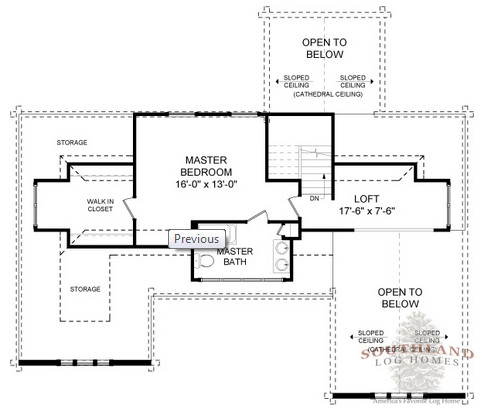 Take a walk up the stairs and you'll find a private Master Suite, complete with a secluded loft when you need to get away. Is this paradise? It might just be.
The best part of any Southland Log Home is the endless options for customization. We can customize The Morris to suit your log home dream, no matter what it looks like.