Sometimes a home just works. You walk through its front door and everything makes sense. A combination of elements comes together—a simple but contemporary design, a subtle connection to nature and an uncomplicated construction process—that make the house truly memorable.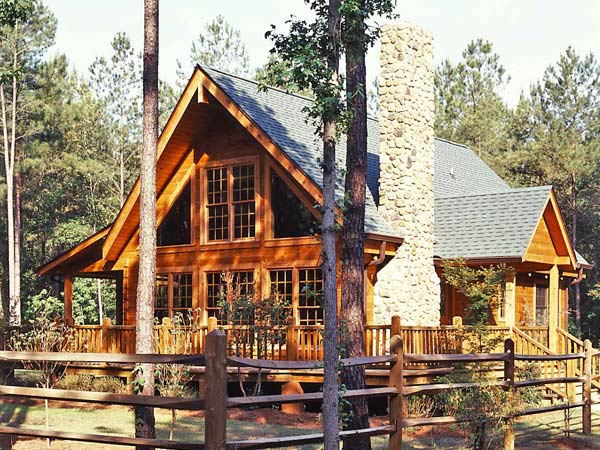 Located in a hunting conservation community near Macon, Georgia, this log home evokes ease and brilliance at every turn. Which is exactly the way the design team intended it. The 1,722-square-foot home, known as the Rockbridge, was built to encourage a slower pace without giving up modern conveniences, all the while capturing the essence of the log home lifestyle.
"It emulates the wide-open feel and access to the outdoors that are found in lodges and other structures typical of mountainous settings," says Steve Quarles, senior vice president of marketing for Southland Log Homes, which designed and produced the house.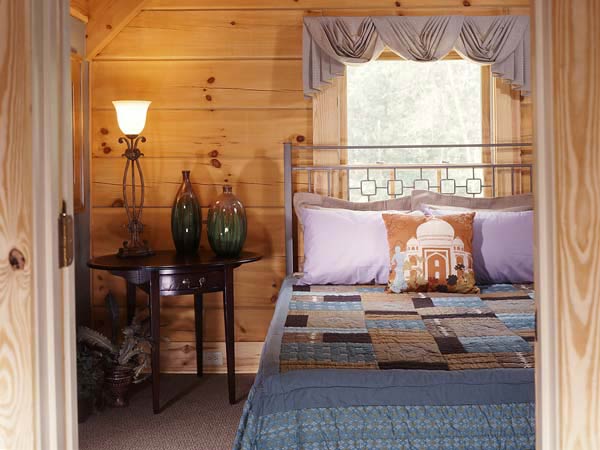 The ambiance within the three-bedroom, two-and-a-half bath home's Eastern white pine log walls is apparent upon walking through the entryway. Sunlight streams through the great room's magnificent wall of windows that open to a tree-lined vista of the property's 5 acres. The 26-foot-high vaulted ceilings practically beg for a similarly sized hearth. But instead of a massive fireplace shooting through the roof, a modest river-stone hearth anchors the space. Throughout the home, heavy timbers accent the ceiling and bring depth to the interior design that hints a more refined cottage style.
Interior designer Brian Murphy brought a touch of what Steve calls "rustic sophistication" with items such as antique painted furnishings and a Queen Anne chair. "We wanted to do something that had broad appeal while at the same time not forgetting the roots of the log home," Steve says. "The interior design represents how someone lives normally." Additional living space comes in the form of the 516-square-foot deck, which wraps around two-thirds of the home. "The deck serves as a bonus living area, in effect adding another very large room to the home," Steve says.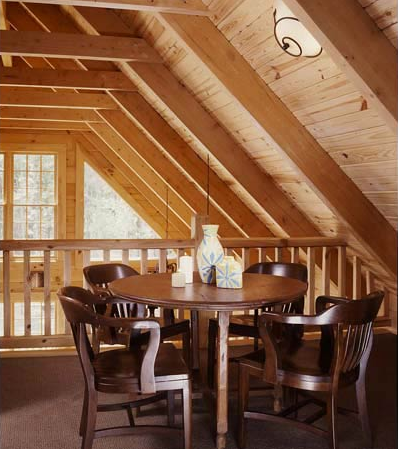 The Rockbridge took only four months to construct, a testament to the straight-forward floorplan and a boon to homeowners who want a modern log home without a long wait. "The building process was really smooth," says builder Albert Phillips. "The open floorplan and generous use of glass make this a contemporary log home that flows exceptionally well into the picture-perfect, woodsy setting." And it's this harmony with the environment that embodies the simplicity and serenity intrinsic to log-home living.
This article originally appeared on www.loghome.com. See the original story here.